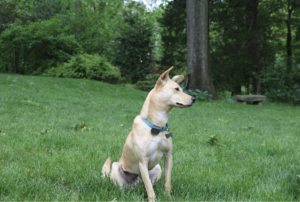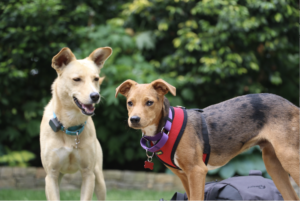 Snoopy is a very sweet and loving pup we rescued from Oman. His entire family was shot by the police (that's how population control of dogs is done in Oman). He was the only survivor. He was rescued by a good samaritan and taken to the ER, After some time in the ER he was well he was taken in by a volunteer rescue organization in Oman. We partner with other rescues to help place dogs. Snoopy is a very loving boy who unfortunately given the trauma he experienced at such a young age suffers from ptsd and some separation anxiety.
He gets along with most dogs, but gets overwhelmed in dog park situations or if there are too many dogs or people. He would do best in a home (single family home) with a fully fenced in yard and a predictable routine. He is a high energy pup who needs a spacious fenced in yard. He loves to chase birds and squirrels for hours. His favorite thing to do inside is to snuggle next to his human. He is very affectionate.
Snoopy is around 35 lbs...he's 2.5 yrs old. He is up to date on vaccines, preventatives, neutered and micro-chipped.
We are an all volunteer rescue with a $350 adoption fee which is paid directly to our vet's office.